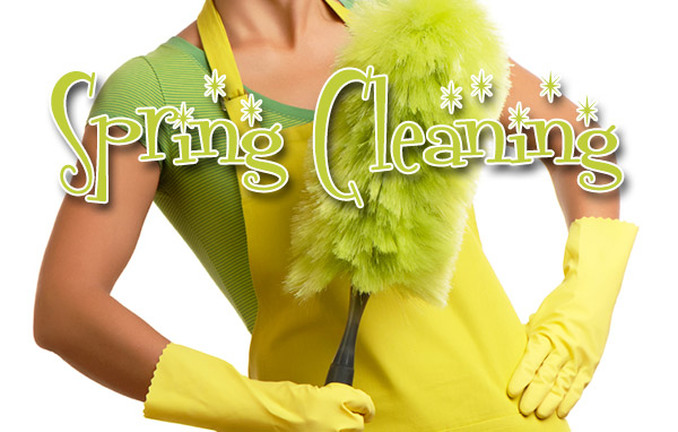 Professional Home Cleaning Service in Jacksonville Florida. Jessie's House & Carpet Cleaning 1.877.CLEANING shares home-maintenance tips for spring.
Isn't it marvelous to live in the sunshine state? Could your home benefit from a facelift in spring 2016? The exterior as well as the interior must be given adequate attention to have a balanced result. However, it does not have to break the bank, all you need is a little creativity, elbow grease, and motivation to engage and remain focused on the task at hand. Jessie will provide the roadmap to a fun dwelling place this spring.
After a long, dark winter, spring's bright sun and warm winds are, well, a breath of fresh air. The only downside? All that sunshine spotlights your leaf-filled gutters, cracked sidewalks and the dead plants in last year's flower beds. Jessie's House & Carpet Cleaning 1.877.CLEANING, a Jacksonville professional and BBB accredited total home care service provider, will share with you this checklist to help you target the areas that need maintenance so you can get your chores done quickly, leaving you time to go outside and play in wonderful Florida sunshine.
EXTERIOR
CHECK GUTTERS
Check for loose or leaky gutters. Improper drainage can lead to water in the basement or crawl space. Make sure downspouts drain away from the foundation and are clear and free of debris.
AVOID FLOODING
Low areas in the yard or next to the foundation should be filled with compacted soil. Spring rains can cause yard flooding, which can lead to foundation flooding and damage. Also, when water pools in these low areas in summer, it creates a breeding ground for insects.
REPAIR WOOD
Use a screwdriver to probe the wood trim around windows, doors, railings and decks. Make repairs now before the spring rains do more damage to the exposed wood.
EXAMINE ROOF SHINGLES
From the ground, examine roof shingles to see if any were lost or damaged during winter. If your home has an older roof covering, you may want to start a budget for replacement. The summer sun can really damage roof shingles. Shingles that are cracked, buckled or loose or are missing granules need to be replaced. Flashing around plumbing vents, skylights and chimneys need to be checked and repaired by a qualified roofer.
CHIMNEY CHECK
Examine the exterior of the chimney for signs of damage. Have the flue cleaned and inspected by a certified chimney sweep.
TAKE CARE OF CONCRETE CRACKS
Inspect concrete slabs for signs of cracks or movement. All exterior slabs except pool decks should drain away from the home's foundation. Fill cracks with a concrete crack filler or silicone caulk. When weather permits, power-wash and then seal the concrete.
FIREWOOD STORAGE
Remove firewood stored near the home. Firewood should be stored at least 18 inches off the ground at least 2 feet from the structure.
CHECK HOSES AND PLUMING
Check outside hose faucets for freeze damage. Turn the water on and place your thumb or finger over the opening. If you can stop the flow of water, it is likely the pipe inside the home is damaged and will need to be replaced. While you're at it, check the garden hose for dry rot.
CLEAN A.C. COILS AND REPLACE FILTER
Have a qualified heating and cooling contractor clean and service the outside unit of the air conditioning system. Clean coils operate more efficiently, and an annual service call will keep the system working at peak performance levels. Change interior filters on a regular basis.
LAWN EQUIPMENT MAINTENANCE
Check your gas- and battery-powered lawn equipment to make sure it is ready for summer use. Clean equipment and sharp cutting blades will make yardwork easier.
CLEAN OFF PATIO FURNITURE
Patio furniture is another one of those things that gets hit hard over the winter. I may end up coated with fuzzy dirty debris. Power wash your set if it's sturdy; otherwise wipe it down with some cleaners made for outdoor furniture. Spray a fresh coat of paint on furniture and replace the cushions. Fill an empty spot on the porch or stoop with a modern bench or porch swing. Once you have your table and chairs sparkling clean again, bring out your chair cushions and outdoor throw pillows to really punch up the color and comfort! And get your outdoor space ready for summer!
PRESSURE WASH YOUR DRIVEWAY, DECK, AND HOUSE
Winter can leave a lot of your home covered in gunk. Dirt, debris, mold, moss and who knows what else always seems to adhere itself to your deck, your driveway, the outside of your gutters and even the siding of your house. Rent (or hire Jessie's) a power washer on a nice day and go to town on any place that could use a good wash down. The results will be stunning and an instant facelift! Take this time to wash your cars, too. Might as well!
INTERIOR
CLEAN OUT YOUR CLOSET
Once the warmer weather hits, it's time to store those winter clothes and break out the t-shirts, shorts and springy dresses! Put your bulky sweaters and coats into airtight totes or bins and store them in the garage or another closet till winter strikes again. This is also a great time to assess what you really wear and what you don't. Be honest! If you haven't worn something in months, donate it!
SWITCH TO LIGHTER BEDDING
Similar to your clothing, spring is also the time to switch to lighter bedding. Ditch the flannel sheets, thick duvets and wool blankets and opt for breezier cotton. Keep a light throw nearby in case the nights still get chilly! You can even totally switch up the look of your bedroom by trading out decorative pillows or changing up the color of your bedding. Have one look for fall/winter and one for spring/summer – this will keep things from getting boring!
DECLUTTER EACH ROOM AND ORGANIZE THE REST
This is one that might take a couple weeks to get through, but try going through each room in your home and getting rid of things you don't use or like anymore. Donate things in good condition and toss the rest. Once everything is decluttered, go through again and organize what you have left. Group things and store them in boxes for later use or arrange them in ways that make sense so you can admire them or use them later!
CLEAR OUT EXPIRED ITEMS FROM THE FRIDGE AND THE PANTRY
Spring is a fantastic time to take a little peek in your fridge and pantry and get rid of all those expired items. I know I'm guilty of forgetting to throw things out sometimes! Once you have all of the expired offenders out of the way, reorganize both your fridge and your pantry, grouping like items together. For example, make sure all of your pastas and sauces are on one shelf, snacks on another, baking supplies on another, etc.
DEEP CLEAN KITCHEN AND BATHROOMS
Make your home sparkle and shine like the coming sun by giving your kitchen and your bathrooms a thorough deep clean. Pull back appliances, dust the tops of the cabinets, clean out your showerhead, and dust the blinds. Really get in those nooks and crannies and use some elbow grease. If you have kids and/or pets at home, be sure to use safe cleaning solutions! Nothing is quite as satisfying as sparkling countertops and a pristine powder room. We know a thing or two about cleaning!
UPDATE YOUR PILLOWS
While fabrics such as velvet, silk, and even tweed are beautiful year-round, they can feel a bit heavy for the spring and summer months. It's easy to give your home frequent updates by having a "pillow wardrobe" for various seasons, just like you do for your clothing. Spring is a great time of year to bring in pillows in breezy fabrics like linen or printed cotton to lighten things up a bit.
REFRESH YOUR BEDDING
Welcome spring and treat yourself! Pick up a new duvet and shams to brighten up your bedroom. This easy fix not only brings color to your room but can help motivate you to make your bed each and every day!
USE FOLIAGE
We like to freshen things up when springtime rolls around with big statement leaves in fun vases. From banana leaves and philodendron leaves, to palms and papyrus, it's an easy and low-maintenance way to add freshness to a room without any fuss. And if you regularly refresh the water and trim the bottom of the stem, the leaves can live on for months.
REARRANGE FURNITURE
Rearrange the floor plan of your living room — it's the ultimate no-cost decorating tip. Moving around your furniture will be a super quick update for the new season and will have you feeling brand new.
ADD SOME COLOR
Colorful accessories are always an easy update for spring. Affordable vases, interesting objects, and colorful books brighten any coffee table or entry console in minutes. Bold agate accents, gold-leaf pieces, and fashion books are my favorites when accessorizing my own home.
KEEP IT SIMPLE
Spring is a time when we all want the freshness of the outdoors to be reflected in ourselves and our interiors. Renewal doesn't mean you have to change everything in your home. Send out area rugs for spring cleaning and try having bare floors for a time. Remove your usual accessories for a while and have only simple fresh spring branches and some lovely green plants adorning your home. You'll feel like you are being reborn along with the natural world.
BRING IN NEW SCENTS
Change your candles for a fresh breezy laundry scent or something citrusy. I always keep my inventory stocked with wonderful seasonal scents.
MAKE OVER YOUR WALLS
Take spring cleaning to the next level by painting or wallpapering. Nothing freshens up a space more than a new coat of paint. You can tackle as much as a room, or scale it down and add a fresh pop of color or pattern to the back of a bookcase or even on a ceiling.
DRESS UP YOUR TABLE
Put out a gorgeous table cloth. You've got countless fabrics to choose from to transform your space into something magical.
ADD A NEW STATEMENT PIECE
Refreshing a room for spring can be quite easy. Subtle changes such as introducing a playful light fixture or buying a piece of art are simple and can instantly rejuvenate a space.
BRING THE GARDEN INSIDE
We put out bud vases with flowers that we find from walks around the neighborhood with our dog or from the garden. Night-blooming jasmine is our favorite smell of spring.
GO LIGHTER
Let there be light! Bring in the natural sunlight, but also lighten up your fabrics. Similar to your wardrobe, switch out the wool and fur for the linen and cotton fabric. I've gone as far to replace wool curtains with linen for the warmer months.
SATURATE COLOR
Paint a small room in a bright lacquer color.
INVEST IN NEW ART
Update your art collection with spring on the mind. Art could be beautiful and inspiring!
EMBRACE FLORALS
My grandmother used to swap her damask curtains to a floral pattern in the spring. It's an old-school trick that transforms a home from winter to spring.
TIDY UP THE GARAGE
Over the winter it's easy to just toss things in the garage since it's usually too cold in there to stay for more than 5 minutes. Muddy winter boots pile up, holiday decorations explode for being moved in and out and so much more. Take an afternoon and put everything back in its place. Invest in some shelving or wall brackets to get items up out of the way. Make sure you place all of your gardening and yard supplies within easy reach – you'll be needing it!
CLEAN THE WINDOWS AND OPEN THEM UP!
Something that rarely gets done at our house is the cleaning of the windows. As I write this I see little nose/paw prints from our cats littering my office window… oops. Spring is a great time to clean all of your windows inside and out with a little bit of Windex and paper towels or newspaper. While you're at it, throw open your windows and air out your house. Nothing is as wonderful as breathing in the fresh air and having it permeate your home!
In closing, it could be hard to find time to complete this list of activities to prepare your home for the upcoming season. If you cannot find time to take care of these home issues or if you are not fully comfortable doing some of these things, you can always contact us, Jessie's House & Carpet Cleaning 1.877.CLEANING and we'll take care of all your spring cleaning and home maintenance service needs in Jacksonville, Jacksonville Beach, Ponte Vedra Beach, Nocatee, Julington Creek, Orange Park, Saint Augustine Beach, and all Northeast Florida. We are here to serve you and to contribute to you having a better quality of life this spring and summer.
​Jessie's House & Carpet Cleaning 1.877.CLEANING
9745 Touchton Road
Jacksonville, FL 32246
Phone: 904-716-0112
JessiesHouseCleaning.com
Jessie's Google+ Page