Jessie's House & Carpet Cleaning 1.877.CLEANING Becomes U.S. Association of Accredited Business (USAAB) Member Organization
Posted: April 29, 2015 6:15 PM EDT
Jacksonville, FL -- 04/29/2015 -- The U.S. Association of Accredited Business today announced that Jessie's House & Carpet Cleaning 1.877.CLEANING, a prominent cleaning specialist company in the Jacksonville, Florida area, has become an accredited USAAB Member.
As of April 29, 2015, the USAAB has verified that Jessie's House & Carpet Cleaning 1.877.CLEANING, actively assures compliance with a concise Code of Ethics, which includes: quality assurance of services provided, minimal consumer and employee complaints, and truthful marketing practices.
Jessie's is your licensed, Jacksonville, Florida cleaning solution. From commercial and residential home and carpet cleaning, Jessie's offers a 100% satisfaction guarantee down to the last drop. Jessie's offers free estimates over the phone, online, and will also perform a free inspection of your home with a no obligation estimate.
Jessie's has undergone a rigorous verification process before being offered The Better Business Bureau and The U.S. Association of Accredited Business memberships. We went to great lengths to earn these respectable accreditations, Jessie Mill, an account representative at Jessie's, since we acknowledge the importance of ensuring consumer trust. Only a handful of reputable cleaning services in Jacksonville Florida have been selected and offered these highly sought after memberships.
Recently, it's become more common for consumers to research a business' reputation on the internet as well as accreditations issued by third parties prior to considering using their services. Founded in 2000, Jessie's House & Carpet Cleaning 1.877.CLEANING has maintained an overwhelmingly positive reputation among business review websites, public records, the BBB, the USAAB, and consumer rights organizations.
Furthermore, Jessie's House & Carpet Cleaning 1.877.CLEANING was recently featured in First Coast News and rated highly with several organizations that monitor the advancement of consumer protection and marketplace trust. Jessie's House & Carpet Cleaning 1.877.CLEANING's strong reputation continues to solidify throughout Jacksonville and Northeast Florida.
For more information on the services of Jessie's House & Carpet Cleaning 1.877.CLEANING, please visit
http://JessiesHouseCleaning.com/
For more information on this press release visit:
http://JessiesHouseCleaning.com/Cleaning-Blog.html
Jessie's Media Relations Contact
Jessie Mill
Marketing Executive
Jessie's House & Carpet Cleaning 1.877.CLEANING
Telephone: 904-716-0112
Email:
mailto:Jessie.Mill@JessiesHouseCleaning.com?subject=PR
Web:
http://JessiesHouseCleaning.com/
Information contained on this page is provided by an independent third-party content provider. Jessie's makes no warranties or representations in connection therewith. If you have any questions or comments about this page please contact Info@JessiesHouseCleaning.com.
Read more:
http://JessiesHouseCleaning.com/Cleaning-Blog.html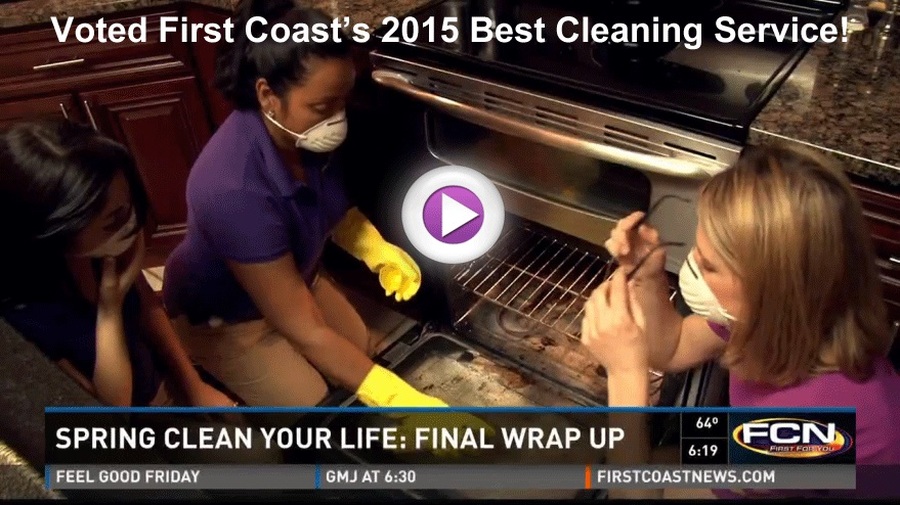 JACKSONVILLE, Fla. -- We spent the day with local cleaning professionals
Jessie's House and Carpet Cleaning
to get some handy hacks for your Spring cleaning. They gave us seven home cleaning "secrets" to help us get started.
First up, the oven! They recommend Easy Off as the best product for oven cleaning. Make sure to throw on a breathing mask or goggles because it's strong! Spray the oven and then shut the oven door and leave it for 15 minutes. When you come back it's easy to wipe all the tough grime and grease away. You can also spray it in the morning and let it sit while you're at work.
Next up, cleaning up your allergies! To blast away the pollen that overtakes patios, use a power washer with vinegar and bleach. That combination is the best and safest way to clean nearly everything outside, including pools and furniture.
On to the ceiling fan! When dusting the fans around the house, you want to make sure and spray the duster with 409 or Lysol and wipe without letting anything drop and spread throughout the home because that will only make allergies worse. If you want to go the extra mile, you can remove the light bulbs and put the outer light fixtures into the dish washer to clean.
On to those dreadful stains, usually caused by our furry friends.Their best combination for stains is Resolve followed by Pet Fresh to get rid of any pet odors and then a good vacuum. If that doesn't get out your pet stains, they say their secret is using vinegar and lime together.
Then to the garage, where organization is everything! Before winter gets here, they recommend throwing out all the excess. Don't stockpile it until Spring. If you need more space, build up, hang things on hooks and add shelves. Building up can keep you organized and take up less space so your cars can still fit inside.
Another 'secret tip' for when it comes to burnt popcorn.If you hate the smell of burnt popcorn or you can't get bad odors out of your microwave, combine a lemon or lime with baking soda and water into a casserole dish and heat for three minutes in the microwave. That should do the trick and keep it smelling fresh.
Last, but certainly not least, the bathroom.When it comes to cleaning the shower, 409 and Clorox bleach are a must. Clorox bleach is the best product to use for the toilet as well as for any molds. Just add a little elbow grease and motivation and you're off to a great start to your Spring cleaning!
First for you, Jessie also shared these tips with us:
Jessie's 9 Tips for Successful Spring Cleaning 2015
READ THE ENTIRE ARTICLE:
http://www.firstcoastnews.com/story/news/2015/03/27/spring-cleaning-around-the-house/70530772/
________________________________
Jacksonville FL House Cleaning/Home Maintenance Press Releases
By Jessie's House & Carpet Cleaning 1-877-CLEANING
Spring Cleaning Jacksonville FL
It's that time of year again — the weather is warming up, we look around our homes, where we work and we want things to be brighter, cleaner and more organized. At Jessie's, we who look forward to excel at this challenge.
For the same reason, Northeast Florida households often use the month of March for cleaning projects and organizing.
By March we
begin
to think of ways to make things brighter, cleaner and more organized. Perhaps it is time to purge items and donate them to the Good Will (or any nonprofit organization) or it is time to clean and brighten up with pressure washing and a fresh coat of paint. This drive we feel lets us go forward with a sense of purpose.
Jessie's is driven by that sense of purpose as well and truly recognizes the need for spring-cleaning. For 14 years, Jessie's has coached and mentored potential leaders within our Northeast Florida community to give back to the community and help with spring-cleaning needed around us.
Whether a Jessie's project team is cleaning out a space, collecting books to be available through the Good Will/Salvation Army, allowing children to refresh their minds.
Volunteering to clean and organize a worship center facility at Nueva Vida Church — giving the non-profit religious organizations a biweekly free clean and organized space for families to learn and grow.
Jessie's is working with other local maintenance businesses to implement projects that add value to the Northeast Florida community in three ways:
· By bringing teams of individuals and local businesses together in a cooperative spirit
· By bettering our community through volunteering maintenance /cleaning churches and other non-profit organizations for the families that enjoy them
· By providing assistance and even reduced rates and/or free cleaning services to retired/disabled residents
So, this spring we are focusing on offering exceptional home maintenance/cleaning services but we thought it was a good time to share with our clients some of the other things we've been doing in the Jacksonville and surrounding areas community. Thanks.
Jessie's House & Carpet Cleaning® 1•877•CLEANINGUpscale Total Home Care 904.716.0112

________________________________
Your Home Deserves To Be Clean As A Whistle & Fresh As A Daisy!

The Importance and Frequency of House Cleaning
Your home is a very personal dwelling place and in order to improve your quality of life it must be maintained on a regular basis. The use of green cleaning products significantly reduces health issues caused by other non-eco friendly products. To avoid buildup and other issues, a home should be cleaned as often as possible (some homeowners have the service performed on a weekly basis). Every other week should be the standard, but never more than three weeks apart. Postponing your home cleaning is like not providing the proper maintenance to your vehicle, it will eventually start to show and cost more to repair.
How to Choose and Hire a House Cleaning Service: 5 Steps
When looking for a house cleaning/home maintenance company there are five things you must pay close attention to: Video Testimonials, Licensing, Insurance, Accreditation, Reviews, and Referrals.
#1 Video Testimonials: This is the best indicator of all your concerns. A legitimate video testimonial is as good as a referral from someone you know and trust. It is extremely hard to "fake" a video testimonial. You can actually see if the person is telling the truth. And, in most cases the Video testimonials are the only thing you need to pay attention to (everything on this list is all integrated in a video testimonial). The people sharing their experience through the video testimonial have more than likely performed all the factors on this list prior to hiring the cleaning service.
Licensing: You must check to make sure the companies you're interested in are registered with the state and with the city. Florida: http://sunbiz.org/ | Jacksonville: http://www.coj.net/
Insurance: You must make sure the companies you're interested in are properly insured.
Some form of Business Accreditation: This is an essential factor because some organizations do the investigating for you. These business organizations conduct thorough investigations of each application before a company becomes accredited. By choosing a company that is accredited, you are selecting among the best companies in the industry.
Reviews: This is a good indicator of the community's opinion of companies, based on past experiences.
Referrals: This is one of the best forms of promotion. Other people that you may know have already experienced the quality of products or services from the companies you're interested in and they are willing to share their perceptions of those experiences.
Is Hiring a House Cleaning Company Really Worth It?
Some Northeast Florida homeowners have doubts about whether hiring someone to clean their house is worth the money. The answer is: absolutely. For starters, highly regarded cleaning companies come into your home on a regular schedule with a set cleaning routine, guaranteeing you a spotless residence. Nothing gets neglected and no chore gets skipped. Additionally, reputable cleaning companies have access to high quality green cleaning products and powerful equipment, often not available to the average person. Besides that, home cleaning services know tricks and strategies that the average homeowner doesn't, meaning your house will be actually cleaner than if you stuck to your guns and did it yourself. Finally, think about all the other things you'd rather be doing instead of scrubbing the toilet. Whether it's running errands, getting some work done, spending quality time with family or simply putting up your feet, you're not just paying for cleaning services, you're buying a little extra time for yourself.
Having a clean and organized home and office can actually influence your productivity. "Research shows that you will be less irritable, more productive, distracted less often, and able to process information better with an uncluttered and organized home and office." (The Journal of Neuroscience, Princeton University, 2011).
9/18/2013 5:30 a.m. http://www.onlineprnews.com/
Jessie's House & Carpet Cleaning® 1•877•CLEANINGUpscale Total Home Care 904.716.0112
________________________________
For A FREE Quote
Contact Us Today

904.716.0112 OR 1.877.CLEANING
Info@JessiesHouseCleaning.com______
​Make A Payment Using PayPal
Follow Us
HOME | HOUSE | MOVE-OUT | CARPET | UPHOLSTERY | PRESSURE WASHING | PAINTING

REMODELING | FLOOD WATER DAMAGE RESTORATION | MOLD REMEDIATION REMOVAL & RESTORATION
AC AIR DUCT | CUSTOM FLOORING

Serving Jacksonville, Jacksonville Beach, Ponte Vedra Beach, Neptune Beach, Atlantic Beach, Orange Park, Julington Creek, Saint Augustine, Saint Augustine Beach, Palatka, Saint Johns County, Green Cove Springs, Fernandina Beach, Fleming Island, Mandarin, San Marco.
.
Copyright © 2018 Jessie's House & Carpet Cleaning®. All rights reserved. JessiesHouseCleaning.com 1.877.CLEANING
9745 Touchton Road, Jacksonville FL 32246
Mobile Site Click Here

Call 1.877.CLEANING


(1-877-253-2646)
Zip Codes Covered


32003
32004
32033
32034
32043
32065
32068
32073
32079
32099
32131
32145
32201
32202
32203
32204
32205
32206
32207
32208
32209
32210
32211
32212
32214



32216
32217
32218
32219
32220
32221
32222
32223
32224
32225
32226
32227
32228
32229
32231
32232
32233
32234
32235
32236
32237
32238
32239
32240
32241



32244
32246
32250
32254
32256
32257
32258
32259
32245
32246
32247
32254
32255
32260
32266
32277
32080
32081
32082
32084
32086
32091
32092
32095
32097
32656